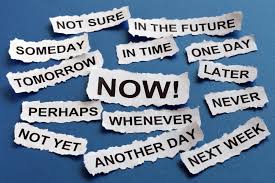 An accurate analysis was taken of over 25,000 men and women who had experienced failure, it was disclosed that lack of decision making took the lead among 30 major causes of failure. I believe it when, Elkanah Oluyori said, "I make bold to say that the poorest nation on earth is 'Procasti-Nation'. It is the land of the poor and home of slaves."
The adage 'procrastination is the thief of time' should ring a bell for everyone. Time is an essential aspect of life for every human being. Time once lost, is lost forever. If unfortunate, you will never acquire opportunities again and maybe lucky, you will attain better chances in life, but the same opportunity that you obtain in that particular moment will be lost forever.
Usually, our time elapses because we are either late or we postpone doing things. The more we delay or procrastinate, the more we tend to lose out on many things of life. After all, time is money. Time is treasure that is insoluble – a mystery we must set out to figure. By procrastinating, we are rescheduling the things in our lives that shouldn't necessarily be overlooked. Time lost, is a loss forever and it can't be retrieved. Therefore the proverb 'procrastination is the thief of time' is one adage whose words are effective and truthful in real life.
Procrastination threatens to rob us of those things that are most important in our lives.
As the saying goes, "Time waits for no man."
Consistent irrational decision-making — saying you'll do it tomorrow, then not doing so and adding yet another day to complete the task — is similar to the irrational decision-making process many people use when bound by an addiction.
We are likewise aware that "the long-run cost" of procrastinating our inspired ideas "exceeds its benefits."
Yet, we procrastinate anyway. This illogical behavior is preventing us from living our best life.
Bill Gates once said he would always 'hire a lazy person to do a difficult job' at Microsoft 'because a lazy person will find an easy way to do it'
Procrastinators tend to believe themselves lazy and incapable. They are thus plagued by feelings of weakness and even worthlessness, yet when we understand that procrastination happens to the best of us.
"You may delay but time will not." -Benjamin Franklin
We can more easily shake discouragement and find the power to overcome this destructive habit.